Design and building sustainable homes
Eco Sustainable Homes are award winning Master Builders based in Central Victoria, we are passionate about sustainable house design and work with you from concept to completion, to design and build your dream home.
Our Eco Friendly homes are built to custom floor plans tailored to your individual vision while maintaining sustainable design principles. They are timeless in beauty, environmentally sustainable and a pleasure to live in.
At Eco Sustainable Homes we incorporate many sustainable building materials into our designs, one such medium is Rammed Earth. We have been constructing Rammed Earth Walls for over 23 years with our sister company Rammed Earth Enterprises.
Benefits of rammed earth
Our knowledge and experience enable us to incorporate Rammed Earth walls to the maximum benefit where they will achieve unique aesthetics as well as utilise their solar passive functionality, fire resistant qualities up to flame zone BAL requirements, sound proofing and acoustics.
In addition to its thermal properties, rammed earth is an excellent medium for feature walls, as they add unique natural textures and tones that suit all styles from traditional to contemporary.
Our process
We work with our clients to design their home from the early discussions and design brief to the site inspection and ongoing communication, to ensure each home not only works superbly with the environment in which it is built, but also that it is beautiful, affordable and functional.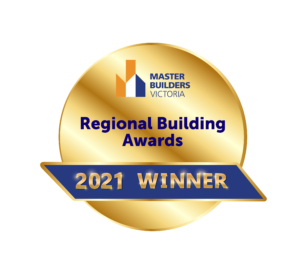 Award Winning Builders
2021 Master Builders Victoria North West Regional Building Awards:
Winner of Best Sustainable Home.
2012 Master Builders Victoria Excellence in Housing Awards:
Winner of Best Custom Home $300 – $400K price range.
Finalist in Best Sustainable Home for the state.
2003 Regional MBAV Building awards:
Winner – Special Commendation for the most Energy Efficient Home.
Finalists in the best custom home in the price category.