Designed and built to be spacious, this retirement home is low maintenance and energy efficient. Constructed in Chewton, it features 440 square metres of natural and unique rammed earth walls.
Great importance was placed on on working with rather than against the landscape. While also achieving a solar passive design.
Award Winning Home
This Project Won the Master Builders Victoria 2021 North West Regional building award for
Best Sustainable Home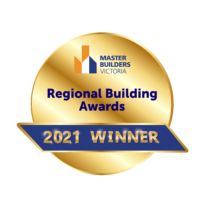 A Design Walk-Through
Leading in from the entry to the left is the expansive open plan kitchen/living/dining area.
This space features a four-and-a-half metre high ridge in the vaulted ceiling. It helps to create an open and light-filled space with excellent northerly aspect.
Through the centrally located walk-in pantry there is a large cellar with enough space for the storage of up to 1,200 wine bottles. Mindfully encased in rammed earth walls, this provision allows for optimum storage temperatures achieved through natural means.
Solid timbers feature throughout this home. Including large sugar gum locally milled posts and beams, timber doors and Vic Ash timber benchtops and blackwood joinery doors.
The home also showcases versatile specialty spaces and rooms for hobbies. Such as the 7 x 3 metre room for installation of a scale model of the historic Maldon Train station.
The two spare bedrooms and study/home office are located to the right of the entry. They are separated from the main living areas of the house by a sitting room. And have direct access to the carport.
Nestled into the landscape, the natural earthy tones of the rammed earth and Jasper corrugated iron, paired with the design, work to snuggle this spacious, low maintenance retirement home into its surroundings.